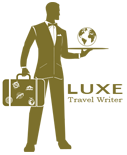 CARIBBEAN COOL AT CHIC LA SAMANNA
Playground of the Rich and Famous
La Samanna is a Caribbean luxury resort on the half-French, half-Dutch island of St. Martin (Sint Maarten) perched above a two-mile stretch of gorgeous deep-sand beach fringing the azure waters of the Caribbean.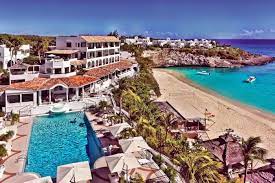 When Rochester Iron & Metal CEO James Frankel first set eyes on its 55-acre site more than 50 years ago, he bought it immediately, planning to build a vacation home there for his family and friends.
Apparently, he didn't realize until the deed was done the site was zoned for commercial use only. But, undeterred, he went on with his plans, creating a hotel instead. He and his wife Nicole named it after their three children Samantha, Anouk and Nathalie, combining the first letters of their names and adding the French prefix La.
First Spotted by Columbus
The island was first sighted by Christopher Columbus on St. Martin's Day 1493, causing him to name it Isla de San Martín. However, although he claimed it as a Spanish territory, he never landed on its shores and Spain never considered settlement of it a high priority.
On the other hand, the French and the Dutch both coveted the island for colonization and trade. They contested possession of it for almost 200 years, seizing bits of territory back and forth, until a treaty was signed in 1648, agreeing the northern half of the island would be administered by the Dutch and the southern by the French, as it is today. In modern times, the dual-nationality island has become a popular vacation destination and a favored stop for multiple cruise ships since it was declared a duty-free port in 1939.
In 1996, Orient Express Hotels (now Belmond), owner of some of the most legendary properties in the world, acquired La Samanna and launched a top-to-bottom renovation program that left it as soothingly refreshing as a tropical breeze.
Recovery from Hurricane Irma
Unhappily, Hurricane Irma devastated the island in 2017 blasting it for eight hours with sustained winds of over 180 mph. More than 90 percent of the buildings were damaged and a third completely destroyed.
After that disaster, La Samanna underwent a stunning $20 million refurbishment placed in the hands of Belmond's trusted London-based design consultants Muza Lab whose many other triumphs include the Belmond Copacabana, the Mount Nelson in Cape Town, and Alpina in Gstaad.
Today, La Samanna provides all you would expect from an über-chic hotel and much more besides, including VIP fast-track progress of you and your baggage through the crowded, slow-moving arrivals hall, and a special fast-exit service through customs on your way home, a real boon in the Covid era.
La Samanna also offers a romantic candlelit dinner-for-two on the beach, champagne sunset cruises, helicopter rides, a two-hour snorkel cruise to the nature reserve of Creole Rock, or an 'Escape to Tintamarre' – an exhilarating pre-dawn boat ride to an uninhabited island where you can snorkel with rare hawksbill turtles in unparalleled beauty.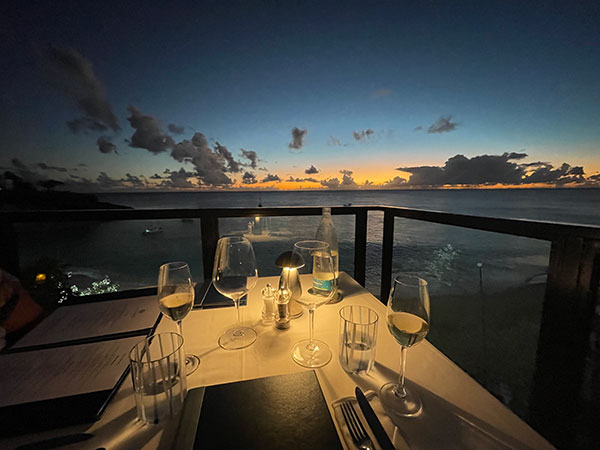 Duty Free Port
Of course, there's always the option of duty-free shopping, especially for watches and jewelry in the Dutch-side capital of Philipsburg. But this is where the docks are. Avoid mid-week when multiple cruise ships unload thousands of passengers on the same day.
A gallery on the hotel grounds doubles as a studio for the artist Sir Roland Richardson, an eccentric, multigenerational islander knighted in 2007 by Queen Beatrix of the Netherlands. Known as the father of Caribbean impressionism, his famous works feature the ruby red tropical flamboyant tree, turquoise seascapes, lush mountains, orange mangoes and pastel-hued skies.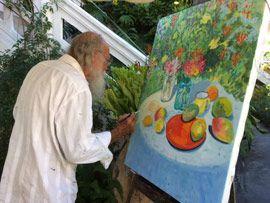 Celebrity Haunt
The pioneer of Caribbean cool, La Samanna still channels all the glamour of the days when the likes of Jackie Onassis, Robert Redford, and David Bowie graced its halls. Countless other stellar guests have followed in their footsteps, including
Versace, Dionne Warwick and CNN's Anderson Cooper.
Glamorous and cosmopolitan, this is a resort to see and be seen.
La Samanna has two pools (one heated), three tennis courts, three restaurants, four beach cabanas and a spa. Striped parasols and elegant loungers create a chic ambience while the super friendly and attentive staff sport pink shorts with blue-and-white shirts. A trio of boutiques sell cosmetics, resort wear and beach essentials.
All the guest rooms are ocean-facing, but the cottages and villas provide an extra level of privacy and space. Some VIPs request one of the eight clifftop, three- or four- bedroom villas each with a butler, a private infinity pool, and spectacular views, especially at sunset. All rooms in the clifftop main building also face magnificent views but the most requested rooms are any of the beachfront rooms A through E situated directly on the sand, just steps from the dazzling sea.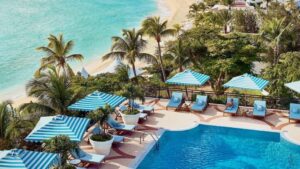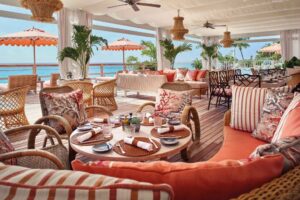 Room rates depend on location and season but as a general guide a deluxe ocean view suite can run around $1,450, a one-bedroom beach front suite $2,350, while a clifftop villa with private pool and butler could set you back $3,600 a night.