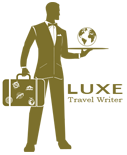 Katharine Houghton Hepburn was born in Hartford, Connecticut on May 12, 1907. She was a leading lady in Hollywood for more than six decades, known for her fierce independence and spirited personality. During her career, she won four Oscars and 12 Academy Award nominations in four categories, the second-most of all time. (Meryl Streep currently has 21 nominations.) In 1999, she was named by the American Film Institute as the greatest film star of the Classic Hollywood era.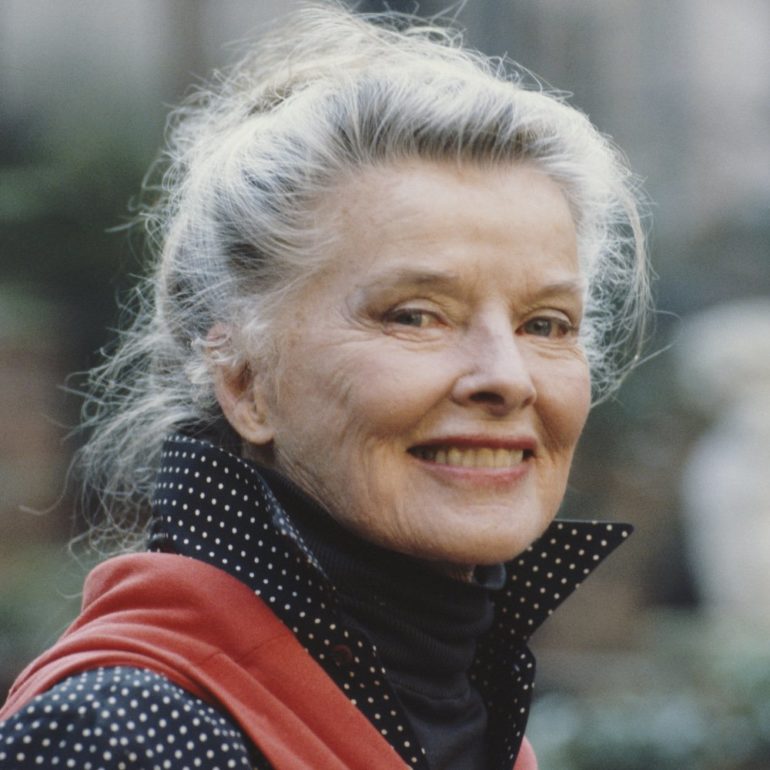 It was October 21, 1991. I was about to meet Katharine Hepburn, a Hollywood icon, a woman who had been a world-class movie star since before I was born. And furthermore, I was to meet her in her New York home.
I was a voluntary member of the board of New England's Silvermine School of Art. With me, were Bill Alley Chairman and CEO of American Brands, Inc., who at that time was Chairman of a Silvermine Capital Campaign, and Joe Benincasa, General Manager of the Actor's Fund of America. We had been invited to the star's home to discuss what we hoped would be her participation in a black-tie gala to benefit both Silvermine and the Actor's Fund.
She lived on a quiet, tree-lined street on Manhattan's posh east side in a narrow, three-story brownstone on 49th Street. We learned from her later that it had been her New York residence since 1937 when she bought it for just $27,500, using most of her movie earnings at that time.
A black wrought-iron fence fringed the front of the house. The number was painted in white numerals above the door. No name. No bell. Two black cords protruded from the wall where a coach light might have hung.
We were early, so we sat outside in the limo, chatted for a few minutes then called the house. Phyllis, her principal secretary (she had three) answered, then handed the phone to her employer.
" We wondered," Joe Benincasa asked politely, "if it would be convenient if we arrived a little earlier than planned."
"Well, if you're already outside," Ms. Hepburn replied, "you'd better come in. If you're here, you're here."
We were greeted by the housekeeper, a jovial-looking woman aged in her early 60's, who was standing in the small hallway. Just two strides behind her I saw a table and bench against the wall. Propped up on the bench was the proof of a full-page ad for the star's recently published autobiography "Me, Stories of My Life" proclaiming it as " A New York Times #1 bestseller". To the right, a steep flight of stairs rose to the first-floor.
I was holding a ribboned box of expensive long-stemmed red roses, which Phyllis took from me saying she'd put them in water. I hesitated to give them up as the intended recipient hadn't even seen them yet, but they were whisked away before I could comment. She invited us to go on upstairs.
As we climbed, I noted the worn stair carpet and wondered how many visitors had made the same pilgrimage, and who they might have been; perhaps, her most famous co-star for one. No one could fail to notice a huge pen-and-ink cartoon of Katharine Hepburn and Spencer Tracy that hung on the staircase wall.
At the top of the stairs, we entered a bright and spacious living room with two tall, vertical windows overlooking a mostly paved courtyard. It was a mild and sunny afternoon in early fall. Amidst a mass of still-green foliage I glimpsed a huge oak tree, lots of ivy and a partially hidden stone statue.
Inside, the room was unexpectedly plain and simple, even a little tired and faded. The walls were cracked and the ceiling stained. These were not Beverly Hills surroundings. No photos capturing times spent with the rich and famous. No movie posters. No stack of screenplays or playbills. No Oscars.
The room was furnished with a comfy-looking sofa draped with a thin white fabric; two armchairs similarly covered and a wooden chaise-longue that looked very much like a deck chair from the Titanic. A rainbow-colored rug like those found in Peru lay on the floor. There were old books in heaps, fresh flowers in vases and a fierce-looking African mask on a table against one wall. A life-size wooden goose in flight hung from chains in the ceiling. Another preened itself on the mantle-piece above the fireplace. There were several oil paintings in gilt frames on the walls.
When Phyllis arrived with the flowers in a cut-glass vase, we each introduced ourselves to her more formally. Tall, frail and white-haired, speaking with an English accent, she indicated where Ms. Hepburn would sit, pointed Joe to the sofa and dispatched Bill and me to each of the fireside armchairs. Then bent to light the logs in the fireplace. Although it was nearly 70 degrees outside, she explained Ms. Hepburn always felt a little chill in her bones.
"That garden outside," she said conversationally, "runs the whole block to 48th Street. We're very fortunate that there's a little path between the streets through the yard."
"Very handy for secret comings and goings," I suggested mischievously.
"Oh yes! Very!" She agreed with a merry giggle. Then she announced with obvious pleasure, "Ah! Here she is!"
Suddenly, all else was forgotten. Katharine Hepburn was in the room, every feature, and every gesture instantly recognizable from thousands of remembered images.
"Oh, my Lord!" She exclaimed in that unmistakable, aristocratic Yankee drawl, "Look how many of you!" She clasped her hands to the sides of her face in mock horror, and we were instantly courtiers enthralled by a beloved queen.
She was aged 84 at the time. Her gray-white hair was swept up in a loose bun with random strands cascading in whispers around her face. She was smaller than expected and thick waisted. She was wearing a plain red cardigan with a hole at the left elbow, buttoned to her neck beneath another open brown one. She wore baggy white sweatpants streaked with dirt and an old pair of badly scuffed sneakers.
"I've been gardening," she explained flatly, but carried the clothes with such aplomb she could have been modeling for Vogue. She collapsed into the Titanic chair, kicked out her legs and got down to business immediately.
"Well I have to tell you," she said, her head shaking back and forth gently, "I simply can't face doing this thing. It would be agony for me to appear in public now. I hardly ever go out. I don't even go out to eat. I don't go anywhere anymore. My foot is broken. I can hardly walk, and…" Her voice trailed off for a moment, then touching her hands to her face added poignantly, "People have no idea how hard it is for me to go out. Look at me," she commanded.
Her beautiful face, without a hint of makeup, had aged graciously but was marred by ugly red blotches of skin cancer. "Too much golf and tennis in the California sun," she whispered almost to herself.
There was a terrible silence. I felt awful that we'd been so thoughtless even to consider dragging the poor woman from her safe retreat into the bright glare of a dazzling gala. Then Bill spoke. Quietly but with conviction, he assured her there were many people out there who would be thrilled just to catch a glimpse of her.
I told her how we all still adored her. She was a Hollywood great, a household name to millions. People would come from miles around just to be in the same room with her. She didn't have to stay long. Just a few minutes, a few remarks that's all. And remember, I gently reminded her, part of the proceeds from every ticket sold would go to the care of her fellow performers now living with the aid of the Actors Guild of America, her favorite charity.
Joe Benincasa, the fund's GM, added his powerful arguments appealing to her philanthropy and stressing just how many of her fellow artists were in need. Some once famous. Some once known to her.
She turned away misty-eyed.
Bill changed the subject. He mentioned he lived in the house next to her former home in New Canaan, Connecticut. " I never lived in New Canaan," she said surprised. Then turned to Phyllis and questioned, "Did I?"
Bill was confused. He was sure his facts were right. He pressed on describing features of the home and ended by saying, "The tracks of an old train set are still in the basement." That struck a chord.
"Oh!... I didn't live there," she emphasized, "but Luddy did."
She had married Luddy Ogden Smith in 1928 when she was just 21 years old. Fiercely independent since childhood, her marriage soon became a one-sided relationship as she became passionately focused on an acting career. They became estranged four years later and formally divorced in 1934. But they remained friends until he died in 1979.
She explained how much Luddy worshipped her. Adored her. Loved her. Would do anything for her. He was entirely sacrificial while she was, she said, "a spoiled and selfish pig. Always me, me, me. That's how I came up with the title for my book, Me."
She explained how Luddy eventually married again and had two children. Twenty-five years later his wife died, and soon after that he became sick with cancer. She nursed him through his last years. "It was my way of trying to pay him back," she said sadly. "Too little, too late…" She began to cry, and we fell silent again.
My eyes strayed across the room to the single 8 x 10 black-and-white photograph on display. It was of a young and lovely Katherine with a handsome Spencer Tracy their heads close together beaming casually and happily at the camera, somewhere long ago full of sunshine.
One of the major stars of Hollywood's Golden Age, Tracy appeared in 75 films, won two Academy Awards for Best Actor from nine nominations in that category, sharing the record with Sir Laurence Olivier.
Married in 1923, He became estranged from his wife Louise in the 1930s but never divorced her conducting a long-term relationship with Katherine in private.
I remembered reading that Tracy was the most significant relationship in her life. She had once written, "I had a unique feeling for him. I would have done anything for him." Her close friend Lauren Bacall wrote of how "blindingly" in love Katherine was with the star from Milwaukee. She met him when she was 34 and he was 41. "I knew right away that I found him irresistible," she said. Their screen partnership spanned 25 years and produced nine movies. He died in Beverly Hills aged 67.
As if she read my thoughts, she said, "I really loved Spencer…we were a glorious couple."
Bill brought her back to the present again and reminded her of the art school benefit. "I'm an artist too, you know," she said brightly waving toward a large oil painting of two ducks on a pond, then indicating two smaller landscapes elsewhere in the room. We all got up to examine them. They were impressionistic and remarkably well done. She began talking about her New England home on the Long Island shore where she often painted, and how many happy memories she had of summers spent there.
Still lying in the chaise-lounge, she asked me where and when the benefit would be held. I gave her the details. "Next summer?" she questioned in astonishment, "I'll be dead by then!" she scoffed.
"No, no, no, don't say that," Bill said leaning forward to touch her knee, "we all think of you as immortal."
"Oh how sweet," she sighed softly.
We talked some more, and she promised to think about it. Then we seemed to have said everything that needed to be said, and were soon down in the hall preparing to leave. I mentioned the proof of the Times ad, told her I had read her book before coming here, and congratulated her on how well the book was selling. "You're very lucky," I said reminding her of the last line in the final chapter. She winked at me and smiled, opened the door and we were gone.
We stood in a loose huddle on the sidewalk outside, each of us lost in our thoughts for a moment. Then Bill said quietly, almost reverently, "What a lady."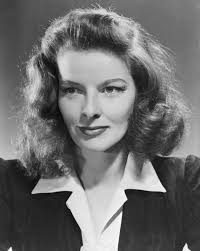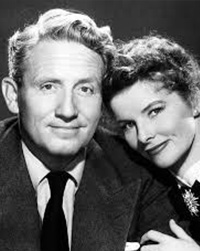 Postscript: Katharine Hepburn did not attend the Silvermine Benefit, but happily the star who won three of her four Oscars after the age of 60, did continue to appear in public for a while, and on television and in the movies. She made her final screen appearance in 1994 at the age of 87. She was 96 when she passed away June 29, 2003. She is buried in the Cedar Hill Cemetery in her hometown of Hartford, Connecticut.