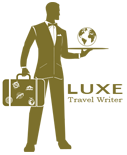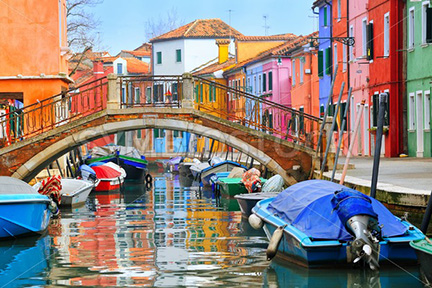 Venice is a city built on a group of small islands, separated by picturesque serpentine canals linked by over 400 bridges.  Some of these islands are better known than others.  Many visitors make their way beyond the city center to the island of Murano, where in 1291 the city's glassmakers were ordered to move their foundries to avoid the risk of fire in the then largely wooden city.  But few make it to one of the most rewarding spots in the entire Venetian lagoon: the island of Burano.
The island is a 40-minute ride in a high-speed vaporetto from St. Mark's Square. Zooming across the calm waters of the lagoon is an experience in itself. But a spectacular bonus is fabulous views of the iconic Venetian skyline from the water, seeing her as Marco Polo would have done centuries ago.
Once you arrive at Burano, your eyes are dazzled by the bright rainbow of colors. Cottages lining the narrow streets, canals and squares are painted to conform to an ancient, mystifying color system that's still enforced by the local government. If someone wishes to paint their home, they must send a request to the government, who will respond with a notice of the color permitted for that specific lot.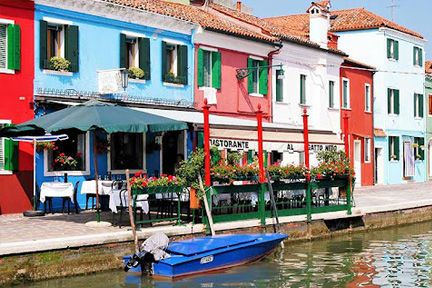 The island is also famous for its lace-making. Lace made here in the traditional manner is extremely time-consuming and therefore expensive. But it is also of superb quality. So much so, when Leonardo da Vinci visited in 1481 he purchased a lace cloth for the main altar of the Duomo di Milano. Soon Burano lace was gracing altars of churches and cathedrals, and dining tables of stately homes across Europe.
But eventually trade declined and did not revive until 1872 when a school of lacemaking was opened, which is still open here today.
It's an easy morning stroll around the flat, tiny island of quiet canals, shaded squares, wooden bridges and narrow streets, then it's time for lunch at  the legendary Gatto Nero (Black Cat). Occupying most of the sidewalk adjacent to a narrow canal, you can believe its seafood couldn't be fresher. Better still, a vaporetto will deliver you directly to its door or pick you up there to take you back to your hotel.