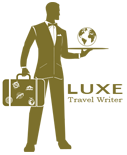 I never thought I'd sit in a bathtub while traveling at 60 mph. But I did, while sitting in an Art Deco bathroom with marble tiles and gold fittings on a train.
Clearly, this was no ordinary train. This was The Blue Train, one of the world's leading luxury trains. It offers all the comforts of a luxury suite just a few steps away from the food, wine and service of a world-class hotel, while you roll by a stunning, blood-orange sun setting on some of the world's most dramatic scenery.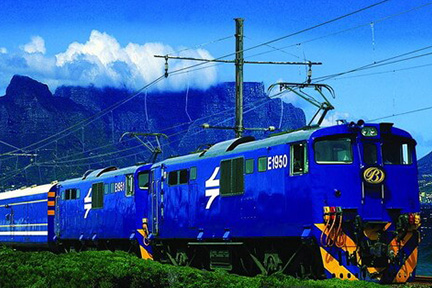 In the easy-living heyday of the 1920s, boasting everything from card tables to ceiling fans, to hot and cold water on tap, the Blue Train was considered 'a palace on wheels.'
Described as The Window on the Soul of Africa, it ran from the old Victoria seaport of Cape Town across the vast open vistas of the Western Cape's Klein Karoo to Pretoria, just north of Johannesburg, an overnight journey of about 1,600 miles.
But in 1977, the traditional route was extended to reach the Zambezi River and one of Nature's most breathtaking displays of raw power, the legendary Victoria Falls.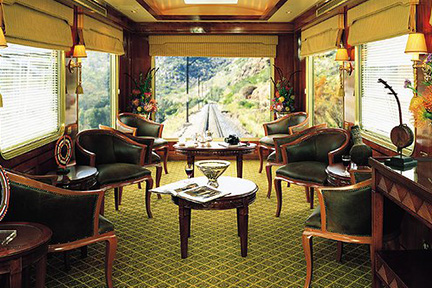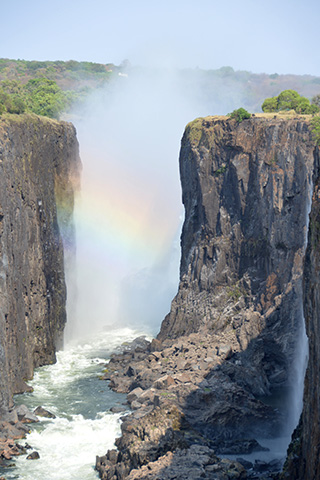 Kings, Presidents, celebrities, and tycoons have traveled on this magnificent, five-star moving hotel.  Elegant eveningwear or traditional African attire for dinner is still mandatory.  Menus feature a selection of local cuisine that might include such local delicacies as Karoo lamb, ostrich fillet or Knysna oysters, accompanied by the best from the Cape's winelands, all offered in the finest traditions of what used to be called the Silver Service.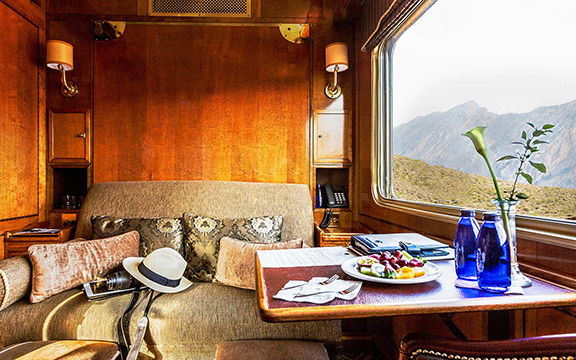 Today, the northbound train makes a one-hour stop in Matjiesfontein, an historic Karoo village that has been faithfully preserved just as it was in the 1900s when ostrich plumes were the rage of fashionable Europe and this was a center for ostrich farming.
On the journey south from Pretoria the train stops in Kimberley, center of one of the largest and most concentrated gold mining operations in the world.
Price of a one-way ticket is around $1,300 per person.  That may be a lot for a train ride but not if it's on your bucket list of unique experiences that are the stuff of legends.