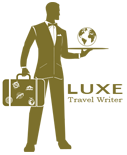 MOROCCO'S LEGENDARY LA MAMOUNIA HOTEL REOPENS, RAISING THE BAR ON PALATIAL LUXURY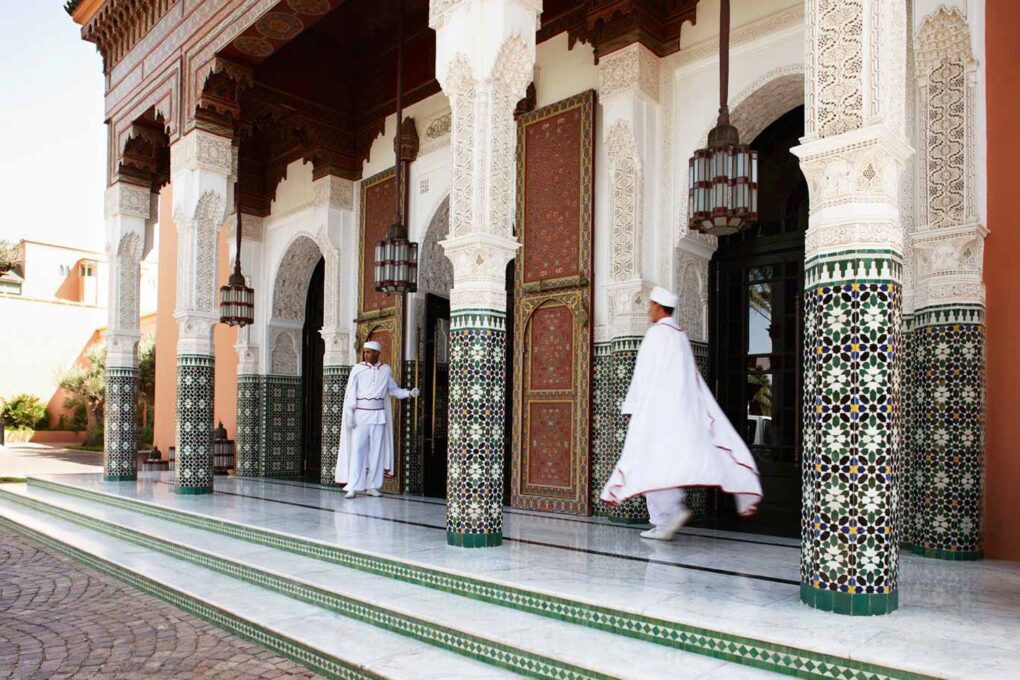 Since it first opened its doors in 1923, La Mamounia has maintained its position as one of the world's most iconic hotels. After three years of renovations costing $176 million, Morocco's legendary world-class hotel in the heart of the ancient imperial city of Marrakech opened its gates to the rich and famous once more on September 29.
Enjoying a global reputation as one of the finest hotels in the world, La Mamounia has been a jet-set favorite since it opened in 1923. Built on the grounds of a palace and gardens that were a gift of a king 200 years ago to his son Prince Moulay Mamoun, this oasis of luxury has been a Mecca for the wealthy and well-connected for decades.
Located at the foot of the snow-capped Atlas Mountains on the edge of the Sahara Desert, La Mamounia has attracted celebrities from Charlie Chaplin to Tom Cruise, Franklin Roosevelt to Jacques Chirac, and from Charles Aznavour to Elton John.
Perhaps the hotel's most remembered guest was Sir Winston Churchill who invited Franklin Roosevelt in 1943 to visit him in what he described as "the loveliest spot in the whole world." Churchill was such a frequent visitor; a hotel bar and a suite are named after him.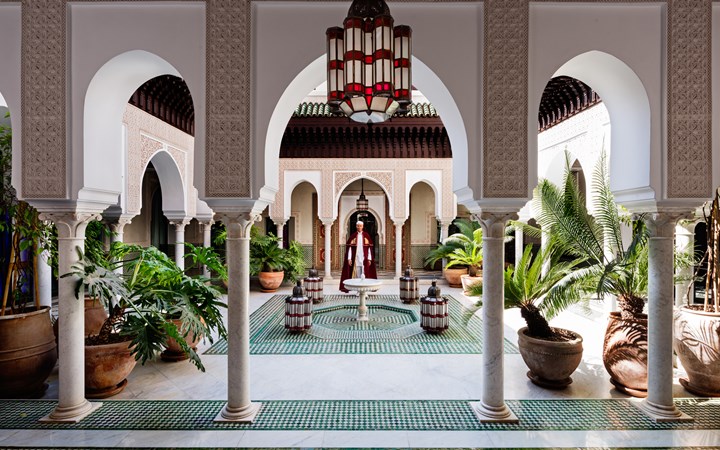 The Churchill Suite overlooks the gardens that Britain's wartime Prime Minister so loved to paint. One of his unfinished paintings is displayed on an easel in these rooms along with the umbrella and hat he used to shade himself from the sun.
Overseeing the renovations and preparations for the highly anticipated opening, the hotel's Directeur-General Didier Piquot is a man whose name is synonymous with luxury property management. His resume includes executive experience at some of the world's toniest hotels including The Pierre in New York, the Ritz in Paris and the Four Seasons, Bangkok.
A slim and suave Frenchman speaking perfect English, Piquot described what guests can expect at the hotel today. "Three years ago, we auctioned off almost everything in the hotel and hired one of the best interior designers in the world to start all over."
The hotel hired Jacques Garcia, internationally renowned designer of numerous prestigious properties including the Parisian pied-a-terre of the Sultan of Brunei. His mission, Piquot said, was to "dazzle guests" with the latest technology blended with Moroccan style and ambiance.
"We wanted the most advanced electronic innovations. But we also wanted Garcia to respect La Mamounia's wonderful architectural heritage while at the same time reflecting the best of modern Morocco's art and style," Piquot continued.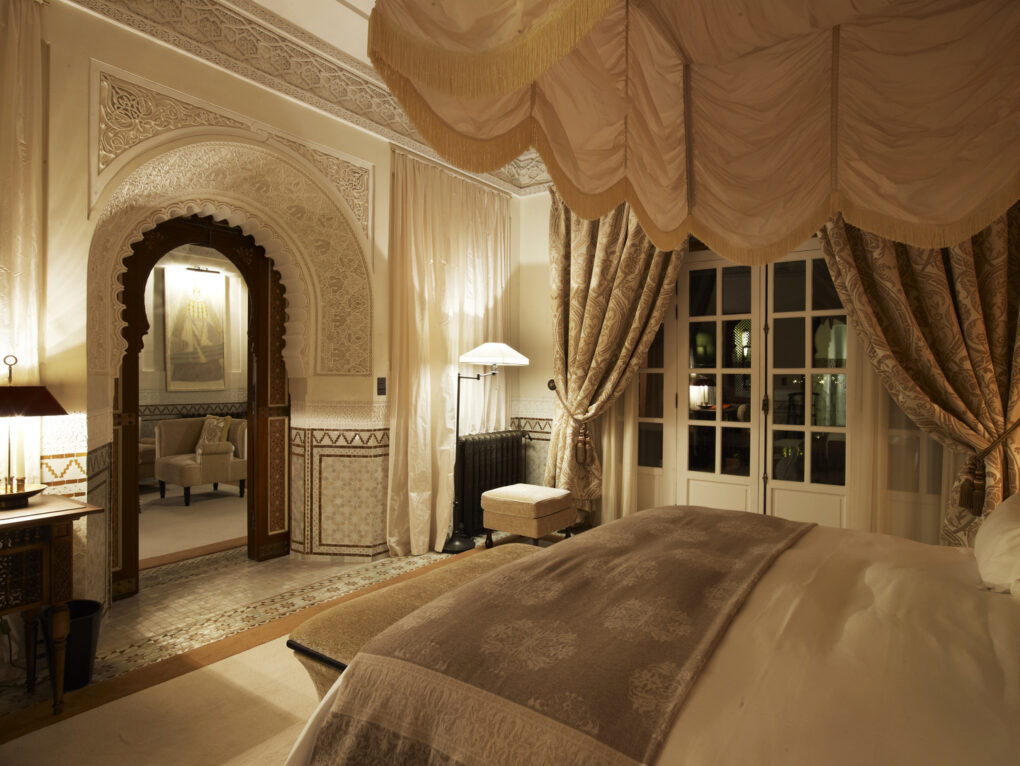 The latest technology includes computer ports in all rooms, of course, and large flat-screen TVs offering a particularly extensive selection of games, and TV and radio channels in multiple languages, including French and Arabic. Most lights are controlled by dimmer switches, which go on and off automatically as a guest enters or leaves a particular area.
Local art has been incorporated into the overall décor. A collection of watercolors of Marrakech forms a gallery in the lobby where the centerpiece is a magnificent life-size marble sculpture of a desert lion attacking a camel and its turbaned rider.
"We commissioned six famous photographers to shoot impressions of everyday Moroccan life then lined the corridors on six floors with their wonderful black and white photographs," Piquot added.
The hotel has 136 classic, superior and deluxe rooms, 71 suites, including five two-story Duplex Suites, seven Signature Suites, and three, three-bedroom, Moroccan-style "Riads" each with their own swimming pool and sun terrace.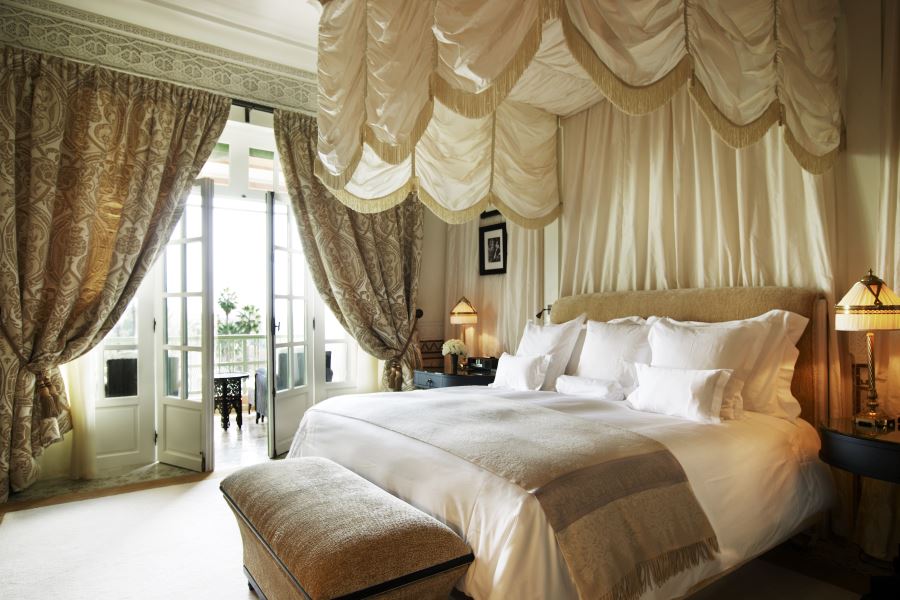 With accommodations starting at over $1,000 a night, Didier Piquot knows his guests' expectations are as high as the nearby mountains. "We've recruited some of the best talent available to oversee almost every aspect of the hotel," he said. "Three of the chefs managing our four restaurants have two Michelin-star pedigrees and our tennis pro is Henri Leconte, the 1980s tennis star once ranked #5 in the world."
Piquot knows his guests demand privacy and discretion. He ensures access to the property is tightly guarded. Sightseers never make it to the lobby. No one can enter the hotel without a reservation. And getting a reservation, even for one of the restaurants, is about as tough as booking a trip on a flying carpet.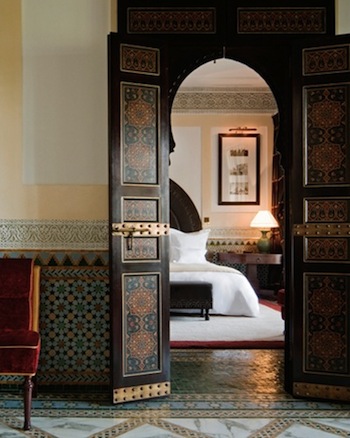 Once inside, privacy and discretion are further assured. A system of silk drapes has been artfully designed for use in the lobby lounge and restaurants that can separate any table from others, creating a discrete, private enclosure for every guest who requires it.
Individual staff members, universally young and polite, and dressed in elegant designer uniforms, serve the hotel's signature dates and almond milk to each new arrival, while luggage magically disappears. Guests are then escorted on a private "orientation tour" taking in the five bars, four restaurants, two-storey spa, swimming pool, fitness pavilion and the eight-acre royal gardens.
By the time guests arrive at their accommodations, they're ready for the sugared cakes and iced champagne waiting there.  The staff member has memorized their names, personal likes and dislikes.  Soon the guests will be addressed by name by most of the staff for the remainder of their stay.
Much has been updated at La Mamounia.  A purse of $176 million has bought one terrific facelift for this desert queen.  Her resulting fresh, good looks are as captivating as Cleopatra's.  But some things have not changed.  Guests still feel they're staying in a palace, pampered and waited upon like royalty.