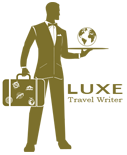 Journey Through the Clouds
The Rocky Mountaineer has been awarded the prestigious World Travel Award as The World's Leading Travel Experience by Train --multiple times.  This honor recognizes not only the train but the entire experience of Western Canada's scenery, history, and people along its routes.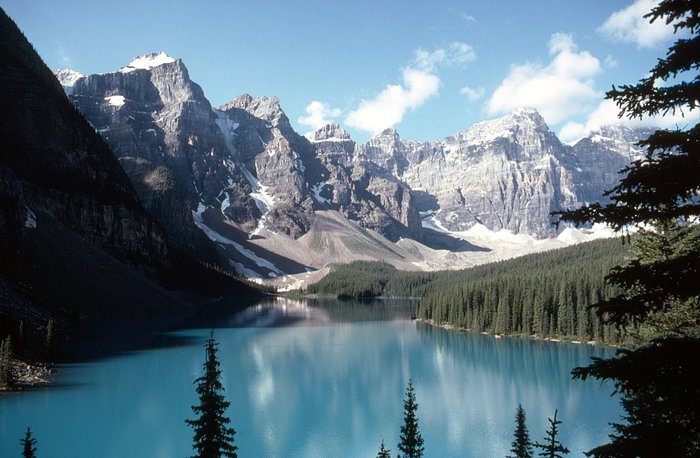 It rolls through some of the most stunning scenery in North America, past sky-high waterfalls and rushing rapids, mile-high mountains and glaciers, and wildlife as varied as black and grizzly bears, elk, moose, wolves, osprey, and soaring bald eagles.
It all began in May 1990 when the train pulled out of the city of Vancouver on the Pacific Northwest coast on its maiden voyage to Calgary, Alberta. Since then, Via Rail Canada Inc. has introduced several more scenic rides including First Passage, Vancouver to majestic Lake Louise; Rainforest to Gold Rush, showcasing the seldom seen interior of Northern British Columbia; and Journey Through the Clouds from Vancouver to Calgary.
The last, perhaps, is the most famous and dramatic. If you've always dreamed of seeing North America's vast natural wonders from a premier vantage point, this is the way to go. The train's glass-domed rail coaches offer an ideal outlook on miles and miles of jaw-dropping vistas during the day, while guests spend their nights in plush hotel rooms at each stop along the way.
Ralph Waldo Emerson famously said, "It's not the destination, it's the journey." In this case, both are true. But I would add one further quote from international travel writer and National Geographic contributor Tim Cahill who said, "A journey is best measured in friends rather than miles." Happily, as you will read, the Rocky Mountaineer was very conducive to making friends on board as well at stops along the way.
It's an awesome seven-day journey through some of the most breathtaking sights in Western Canada. This includes Banff National Park, famed for its rugged mountains; the emerald waters of Lake Louise and Moraine Lake; and the dizzying heights above the 10,000-year-old sheet of ice known as the Athabasca Glacier.
Two-level Luxury on Board
The train boasts two levels of service, Silver Leaf and Gold Leaf. Silver Leaf passengers ride in single-level, glass-domed coaches with spectacular views, comfortable pre-assigned reclining seats, and access to an outdoor viewing area.
Gold Leaf guests soak in the panoramic vistas from a bi-level glass-domed coach with a dining car on the lower level and seating on the upper. They enjoy gourmet a-la-carte meals downstairs in the dining room and can then step out onto an exclusive outdoor platform for photos of the uninterrupted views and a breath of fresh air.
For my wife Paula and I, our September journey began in Vancouver – in the rain. We were told that's not unusual. Vancouver is Canada's third most rainy city with an average of 192 days of rain per year, enough for me to fret about the quality of photos I might capture on our journey, but not to worry. The weather soon began to clear, and the sky turned a brilliant blue against which the towering, snow-capped Cascade Mountains stood out in craggy relief.
Soon into the trip, we met Charlotte and Ross, sitting across the car from us. I couldn't help noticing that instead of taking photos, as most of us were, Charlotte was capturing scenes outside our windows by creating wonderful black-and-white images in a thick artist's sketch book on her lap.
It turned out their home was on Vancouver Island, a thriving artists' colony off Canada's Pacific Coast, most renowned for its magnificent floral displays found in Butchart Gardens. We were fortunate to have found not only an engaging couple to share our travel experiences with but also a pair of entertaining dinner companions.
Kamloops
From mountains and canyons, we emerged into the lush green fields of the Fraser Valley, past dense forests of evergreens and deep, winding rivers until we came to the shores of Kamloops Lake for an overnight stop.
Many early French fur traders once hunted wolves throughout the scenic Fraser River watershed, naming their base Camp des loups (camp of the wolves), which some believe to be the origin of the community's name. Today, Kamloops, surrounded by mountains, rivers and lakes is a major outdoor activities mecca, but it's also a major transportation hub. It's sprawling center is an uninspiring place featuring rail yards and shells of burned-out buildings savaged by summer forest fires.
In 1862, a smallpox epidemic swept through the area all but wiping out the indigenous people "leaving bodies strewing the ground in all directions," reported a local paper at the time. More recently, in May of last year, reports of the discovery of graves containing the remains of 215 children found at a former Kamloops Indian residential school, sparked outrage around the world and cast a gloom over our mood as we were transferred from the train to the only 'moderate standard' hotel on our trip.
Over the Mountains to Jasper Park
But our mood lifted the next day as our train journey again rumbled northeast through more inspirational scenery following the banks of the North Thompson River through the Monashee and Cariboo Mountains, climbing ever nearer to the high peaks of the Continental Divide, then over the Yellowhead Pass into Jasper National Park.
The 765-mile Athabasca River, a primary highway back in the day, flows through much of this gorgeous UNESCO World Heritage site, which has long been rich in fish and game. So much so, a major supplies and trading post was set up on the banks of the river in the early1800s. Isolated but busy, it was managed by Jasper Haws, then a 45-year old native of Maryland, after whom the park is named.
Our next overnight stop was at the Fairmont Jasper Park Lodge, a 700- acre, year-round luxury mountain resort which wraps around the shores of prestine Lac Beauvert. The resort is primarily a village of luxury cedar chalets and cabins connected by footpaths and surrounded by grasslands, which are prime grazing for herds of elk also known as wapiti.
A male elk is big, heavy and imposing. It can weigh up to 1,000 pounds and have broad, flat antlers like jagged elephant ears that can span six feet.
That night, asleep in our chalet, I awoke to what sounded like an open wooden gate banging and clanging repeatedly in the wind. In turned out to be two bull elk right outside our door butting heads aggressively. It was rutting season.
A First Nation Legend
The following day we met with an experience of quite another kind. We were taken by bus to a cruise on 14-mile long Maligne Lake, the second largest glacier-fed lake in the world, encircled on three sides by a single mountain range. It's iceberg-blue waters framed by breathtaking mountain scenery is a place of ethereal beauty and legendary reputation. Even today, First Nations people consider it a place of great spiritual importance in no small part due to the significance of its Spirit Island.
According to Stoney Nakoda First Nation legend, a boy and a girl from two different tribes would rendezvous on the island once a week in secret. Although they soon fell in love, their tribes were enemies. After the girl confessed to her father where she had been, he angrily banned her from every returning to the island again. Her lover never learned what happened. He came back over and over again hoping to see her even just one more time, but in vain. Broken-hearted, he died on the island, which his spirit is said to restlessly haunt looking for her to this day. No one is allowed to set foot here. The place is sacred to the First Nation people.
Where Eagles Dare
Another major attraction in Jasper National Park is the Glacier Skywalk. Not for the feint-hearted, this is a glass-bottomed observation walkway that juts out from a rock face about 900 feet above the Sunwapta Valley giving a bird's-eye panoramic view of the 125 square mile Columbia Icefield below fringed by glacier-fed waterfalls tumbling down sheer mountain cliffs. We didn't know it then, but we were soon to be down there walking on the ice.
Back on the ground, we were taken out to the icefield on an all-terrain, six-wheel monster truck called an Ice Explorer and dropped off to wander at will across the 980-feet deep, 10,000-year old sheet of ice, pock-marked and scared by deep fissures. They didn't tell us in advance, that wearing the wrong shoes on the ultra-slippery surface has led to more than one tourist disappearing down a crevice.
Soon we were back to luxury in the Fairmont Chateau Lake Louise, which broods over one end of the iconic lake that is the centerpiece of one of the world's most awe-inspiring mountain destinations and one of the most romantic. The vast chateau has been witness to countless weddings and honeymoons, celebrity rendezvous, and royal visits.
A Sad Love Story
We managed to snag the last two seats at the chateau's crowded bar while waiting for a table for dinner. We found we had sat down next to an attractive young blonde drinking alone. I asked her where she was from. She told us she was the head of an ICU ward in Vancouver General Hospital, the third largest hospital in Canada, where she had been caring for a steady flow of Covid patients for weeks, some of whom she'd watch die. She looked physically and emotionally drained. So we were not surprised to learn the hospital had gifted her a stay in this hotel insisting she take a rest.
Asked if she had a boyfriend, she said she did, but he'd left her, tired of waiting for her to come home from endless days and nights. He'd go out and eventually, of course, he met someone else.
"He must be nuts!" I said astonished, thinking how attractive she was and clearly a thoughtful, caring person. "That's what I thought," she said vehemently in full agreement. Now her only companion was a dog she had brought with her to Lake Louise.
Later that evening, Paula and I talked about how much we knew about Covid and the thousands of dying and dead every day, but how little is reported about the impact of the disease on the lives of the caretakers, like this lovely young woman from Vancouver whose dedication to her job had left her alone with her personal life in ruin.
Before we took off the next morning on the last leg of our journey, we visited the hotel's art galleries, primarily featuring fabulous work of First Nation painters and sculptors, and the Qiviuk boutique that showcased beautiful clothing made from the wonderfully soft inner down of the Artic musk ox.
Yoho National Park and Calgary
Before reaching Calgary, the train's final destination, we were taken on a visit to Yoho National Park on the western slopes of the Continental Divide in southeastern British Columbia. The word Yoho is a Cree expression of amazement and it's an apt way to describe the spectacular landscape of massive ice fields and mountain peaks, which rank among the highest in the Canadian Rockies. Although it is the smallest park in the Rockies, Yoho's towering rock walls, plunging waterfalls and soaring peaks cover over 500 square miles.
Cosmopolitan Calgary's skyline is dominated by numerous skyscrapers that are a testament to the city's prosperity as the center of Canada's oil industry. However, the Cowtown's western culture is still very evident in the city's world-famous Calgary Stampede, a hugely popular July festival that grew out of the farming exhibitions that once took place here.
But we saw none of this. Our last day in Canada was taken up with fond goodbyes and our scrambling to obtain Covid tests necessary for reentry to the U.S. We were to fly from Calgary to Jackson Hole, Wyoming where we were to continue our marathon with a tour of the western national parks of the United States. But, that's another story.
Some of the photos from this trip can be seen by clicking on the Travel Gallery button on this site's home page then clicking on the Canadian flag.
Footnote. A few practicalities:
First, we were traveling in the time of Covid. In addition to proof of vaccines, we had to have a viral test no more than one day before entering Canada and before returning to the US. We were asked to show our proof of vaccinations multiple times in hotel, restaurants and on busses.
Second, our journey included overnight stops, exclusively in Fairmont hotels, Canada's premier luxury hotel chain, where our baggage appeared miraculously from the train or bus with smooth efficiency at every destination.