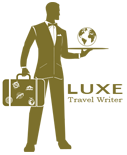 IN THE FOOTSTEPS OF SAINTS AND SINNERS
Published under the headline "Heavenly Hills" in Naples Illustrated.
Published: February 2003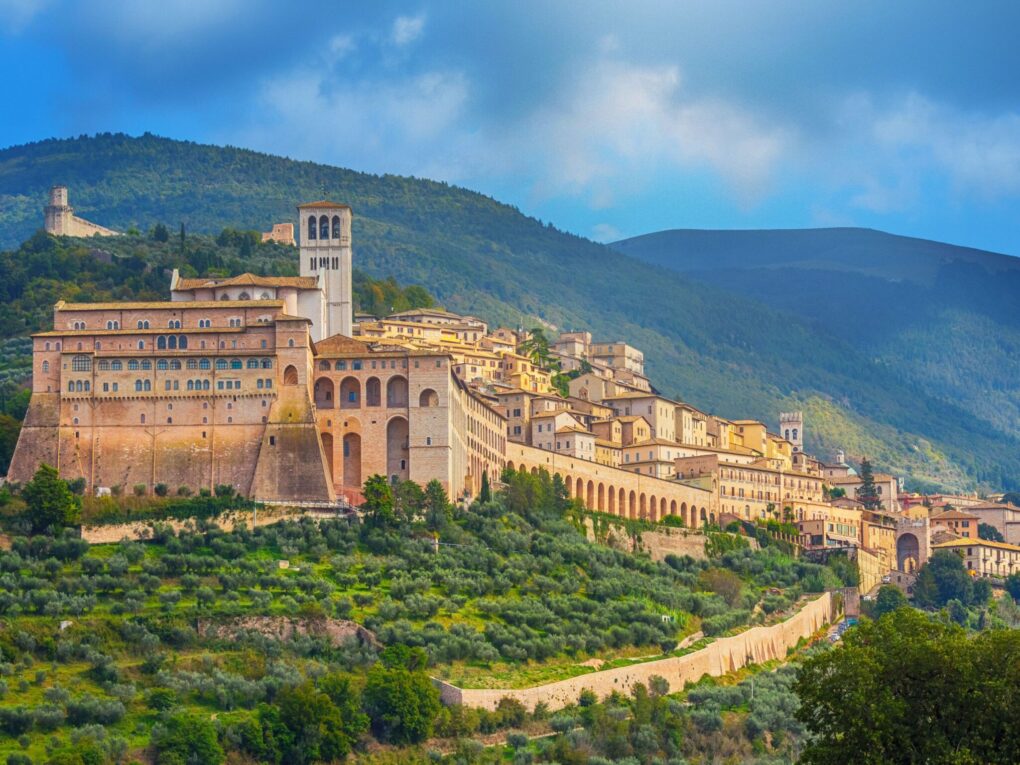 Two and a half hours drive northeast of Rome are the magnificent hilltop towns of Umbria.  Towns that offer sweeping views across red roofs to rich fertile valleys, accommodations that can be as grand as a Renaissance palace, and superb cuisine, regional breads, cheeses and wine.  But for lovers of history and art these towns are particularly irresistible.  They seem as textured and richly colored as a medieval tapestry.
Texture is provided by crooked cobblestone streets and twisting stone-cut passageways; monolithic monasteries; craggy, crenellated castles; feudal fortresses and papal palaces perched on hillsides. Color comes from a palette of red, white and pink flowers in terracotta pots; pale shrouds of morning mists; green and slender cypress trees; butter-yellow sunflowers and groves of lavender-gray olive trees.
Into this backdrop has been woven a rich pageant of historical figures and events that have shaped some the most influential movements of art, history and religion of the western world.  Saints and sinners, popes and philosophers, artists and artisans once walked these towns and left a mark still tangible centuries later.
A step into an ancient alleyway in Umbria is like stepping into a living history book lavishly illustrated with colorful scenes from a bygone age.  Here, are spacious courtyards entered through iron-studded doors that once opened to lords on horseback returning from a hunt.  Here, are elaborately decorated gilded halls, where rich and powerful burghers once pondered treaties and alliances. Here, are frescoed churches, monasteries and convents where followers of saints born more than seven centuries ago still kneel in silent prayer.  Here, are long-ago carved public fountains and monumental sculptures of past heroes.  And here are flag-decked market squares where the townsfolk still gather to buy and sell, relax and gossip.
Of course, there is much evidence of the modern world too: tangled traffic, hissing buses, speeding scooters, crowded car parks and cafes, and fashion-conscious, female cops in mini-skirts and stiletto heels.  But what distinguishes these towns from many others is that the realities of today seem little more than a daily intrusion on a way of life that has remained largely unchanged for centuries.  Umbrians live in the same houses, walk the same alleyways and even go about the same business as many of their ancestors did. They actually live with the glory of their past.  It's not in the halls of a museum but all around them.
Furthermore, while Umbrian towns cannot match the wealth of treasures found in Florence or Rome, most are easy to explore in their entirety in a morning or afternoon, they are relatively short distances apart and there are no interminable lines at their major attractions.
But there is one drawback.  These are hilltop towns and their centers are often right at the top.  Getting up there by car can be tough, not for Italians but for visitors.  The locals barrel around the steep and narrow curves with high-speed gusto.  When they reach the top they breeze confidently through the tangled cobweb of one-way streets, then appear to think nothing of abandoning their cars in a doorway, on a blind bend or on some impossibly small patch of sidewalk.  The less experienced need a crash course in hairpin bend navigation and a class in opportune parking is mandatory.  Fortunately, most authorities provide plenty of parking on the lower slopes of the hills.  But visitors have to walk up from there.
There are towns whose hilltop splendors can be reached only by steep climbs up cobbled inclines that seem never-ending.  These can leave all but the fit in roughly the same state of quivering collapse as a stiff thirty-minute workout on a Stairmaster.  But there are others that have thoughtfully installed tourist-friendly escalators or cable-car funicular.  However the visitor ascends, the climb is always worth it.  The views are magnificent and the sights are many.
Some of the brightest star attractions of Umbria are found in Orvieto, Deruta, Perugia, Gubbio, Assisi and Spoleto that form a rough circle around Todi, a convenient center for touring the region.  They each have compelling reasons to visit, but a brief look here at a few sets the tone for them all because but much of the history of these towns in terms of commerce, art, architecture and culture is interwoven.
Place of Pilgrimage
At one point or another in history, most of these towns were feuding about something with someone, a fact partially responsible for their inclination to protect themselves by perching on top of largely inaccessible mountaintops.  But, during the Middle Ages, feuding was particularly endemic often erupting into full-scale battles.
Captured during one such battle was a young man born in Assisi into the family of a wealthy Umbrian merchant.  Following his release from prison, he gave all he had to the poor, looked after the sick, led a humble, exemplary life and founded a movement that became a global phenomenon.   He is known today as St. Francis of Assisi, and his final resting place is one of the most important pilgrimage sites in the western world.
Two years after the death of the saint in 1226, construction began in Assisi on the Basilica di San Francesco, which today ranks behind only the Collosseum in Rome, the ruins of Pompeii and the canals of Venice as Italy's top attraction.
Approached through the Spoletine Valley, the pink and pale-gray stone village of Assisi fills the skyline perched on a flat shelf in the side of a mountain that looms massively ahead. Easily dominating one end of the village, the basilica and the huge convent below it rise grandly out of the rock inspiring awe even from a distance.
Once through the Roman arch that still marks the entrance to the village, there are many treasures to see but most streets seem to lead to the two-story basilica, a deceptively simple structure on the outside but gorgeously embellished on the inside by some of the most celebrated artists of the age.
Stepping into the interior of the spacious Upper Church, the visitor is immediately dazzled by the festival of frescos that adorn the walls of the nave and showcase the skills of one of the greatest geniuses of the early Renaissance, Giotto di Bondone.  Giotto's huge and imposing 28 fresco cycle known as The Life of St. Francis ranks among the world's great masterpieces.  Still in remarkably fresh condition, the fresco scenes record the most important moments in the saint's life in simple yet hauntingly powerful images that leave an indelible impression.
Appropriately humbled and prepared for what is to follow, visitors descend down narrow stone steps into the magnificently decorated but dimly lit interior of the Lower Church to be immediately enveloped by an aura of reverence and the heady scent of hundreds of smoking candles.  Here is the narrow entrance to the stone-arched crypt below that contains the majestically simple tomb of the man who became patron saint of Italy and one of Christianity's most revered figures.  Mysteriously, the visitor feels alone in this serene place, and humility and spiritual communion come easily.  Yet, all around are robed friars and solemn nuns kneeling in wooden pews and silent prayer while hushed worshippers shuffle past in an unending line. It has been said that the Basilica di San Francesco moves the devout to tears and art lovers to near religious ecstasy.
Sinister Sinners
While saints, popes and the faithful have walked the streets of Assisi evil has stalked nearby Perugia.  Written into the history of Umbria's capital city is the story of one of the greatest family of sinners of all time: the Baglioni family, whose errant escapades in the 14th century make the twisted plots of today's TV soap operas seem as innocent as a walk in the park.
The Baglioni family turned assassination, treachery and incest into an art form. When not plotting secret vendettas and poisoning their outside rivals, they killed siblings on their wedding nights, kept lions as pets, tore human hearts out of chests for lunch, and married their sisters.  In a tangled conspiracy of ghastliness, the bulk of the family massacred one another on a single day in August 1500.  But it was Rudolfo Baglioni, the sole survivor of this ultimate in family feuds, who went completely over the top.
Rudolfo attempted the assassination of a papal legate that so irritated Pope Paul III he sent in forces to quash the city's defenses and literally bury the entire Baglioni neighborhood.   The result is one of the many reasons to visit Perugia today: the excavated subterranean complex of eerily dark houses and alleyways likened to a Medieval Pompeii.  Today, visitors can safely stroll around the old Baglioni neighborhood by stepping off the escalators that pass right through it connecting the parking lots below to the streets above, notably the Corso Vannucci one of the most famous boulevards in all Italy.
When the ruling elite were not preoccupied by killing each other or their neighbors, they turned to glorifying their names and their surroundings by sponsoring the most talented artists and artisans they could find.  One of the best examples of this penchant for patronage is the Corso Vannucci.  Along its stately and broad length and in its surrounding streets are magnificent squares, fountains, churches and palaces that comprise an almost complete medieval city.
On this street is one of Italy's top museums, the Galleria Nazionale d'Umbria, which houses the largest and finest collection of Umbrian art in the world.  It contains many masterpieces but most proudly those by Pietro Vannucci, better known as Perugino, an artist once described by his contemporaries as "Italy's greatest master".  Not a bad review for a man who studied alongside Leonardo da Vinci and countered among his star students Pinturicchio and Raphael.
Perhaps the most splendid example of the groundbreaking pictorial style that Perugino pioneered was his decoration of one of the rooms of the Collegio del Cambio, also found on the Corso Vannucci.  The frescos he created for the power elite that once met in these rooms are considered a masterpiece of studied naturalism and precise portraiture and an invaluable reference for 15th century fashion.  The fresco cycle and the lavish ornamentation around it provided a ready-made pattern book for engravers, inlayers and fabric designers for generations.   There is nowhere where this is more evident today than among the manufacturers of the glazed Italian ceramic ware known as majolica.
Majolica Mecca
Deruta, the ancient hill town high above the Tiber north of Orvieto, has been a famous center of ceramic craftsmanship for more than six hundred years.  Pilgrims visiting the birthplace of St. Francis a few miles away were in constant need for bowls and cups for eating and drinking as well as souvenirs bearing the saint's image.
The same plates, bowls, jars and pitchers produced in Deruta during the Renaissance are still being formed and painted today and many of the classical motifs still used are based on the works of Perugino, Raphael, Pinturricchio and other Renaissance masters.  There is a wonderful little museum in town with especially fine examples on display.
The 300-plus ceramic firms in operation in Deruta today are a mecca for lovers of the colorful and distinctive pottery that now enjoys a world-class reputation. Yet, despite the tiny town's major reputation and huge output, basic production for the most part remains largely the same and the craft remains a hands-on one.  One of the pleasures of a visit to Deruta is the possibility of meeting the people who create each piece individually, some of whom are descendents of families who produced these objects hundreds of years ago.
 Food and Festivals
There are many other reasons to visit Umbria, including its glorious food, wine and historic festivals.  The region is famous for its mouth-watering cuisine, much of which is garnished with truffles, the rare, exotic and expensive delicacy found here, and is often followed with a local fiery spirit known as grappa that puts out one's lights faster than a bolt of lightning. Torgiano, about nine miles south of Perugia, is celebrated for its wines.  They're considered the best in Umbria, the top label being Rubesco Riserva.
One of the best times to visit Umbria is during one of their many festivals; conveniently, there seems to be one almost every month.  Many are spectacular celebrations of history and culture.  Some involve costumed marksmen in medieval crossbow competition.  Others cause the local citizens to get dressed up like extras from the set of Romeo and Juliet.
Gubbio, a town of huge fortress-like buildings stacked atop each other up the slopes of a steep mountainside, is known as the Town of Festivals, its biggest annual bash being the pagan Corso dei Ceri held on May 15.  It's one of Italy's top five funfests staged in the dramatic setting of the 14th century Piazza Grande and a Palazzo di Consoli, which boasts a 300-foot bell tower than can be seen from miles around.
In June, Orvieto is stage to the Procession of Corpus Christi during which there is a parade of locals in 13th century costume performing medieval song and dance.  In August, Citta della Pieve hosts the Palio dei Terzieri that involves a procession of several hundred participants impersonating 16th century acrobats, fire-eaters and jugglers, soldiers dragging siege canons and catapults, and locals dressed as characters from paintings by Perugino.
Spoletto, an otherwise quiet town of Roman ruins and medieval buildings, bursts at the seams each June when it hosts the big daddy of them all, the three-week Spoletto Festival.  It's a world-class dose of heavy-duty culture that amounts to one of the most important festivals of music, dance, art and theater on Europe's calendar.
All of Europe revels in its history and glorifies its past.  But the ancient hilltop towns of Umbria offer something more.  Landscapes, monuments, events and characters that are as compelling to visitors today as they were to those who trod the same cobbled passages centuries ago.